The Complete 2022 Mother's Day Gift Guide
The month of May has arrived, and that means that Mother's Day is right around the corner. Moms are some of the hardest-working people on the planet, and if there's a mother or grandmother in your life, it's important that you take the upcoming holiday as an opportunity to show them how appreciated they are. While purchasing a nice gift for your mother, grandmother, or the mother of your children isn't the only way to demonstrate that you care, it's certainly a good place to start!
At Bestier, we offer quite a few pieces of furniture and household items that would make fantastic Mother's Day gifts for any mom. Below, you'll find a few of our favorite selections that we think the mother in your life would love to receive. So, instead of getting stressed out and frantically trying to find a last-minute present, consider getting her one of these great products instead. 
Bestier Wine Rack Glass Storage and Buffet Cabinet 
If the mother you're shopping for enjoys wine, food preparation, or both, you should consider buying her our beautiful Wine Rack and Buffet Cabinet. Aside from its elegant appearance, the nicest thing about this furniture piece is its multi-functionality. The X-frame wine storage area is the perfect spot for mom to store many of her favorite vintages, and the upper shelf will work wonderfully for mixing cocktails, serving delicious food platters, or displaying artwork, plants, and other decorations.
The unit's side buffet cabinet offers spacious storage space and adjustable shelves, where your mother, grandmother, or wife will be able to store plates, towels, condiments, or any other kitchen items. While the Wine Rack and Buffet Cabinet will be most at home in the kitchen, it will fit smoothly into the dining or living room as well.
The Wine Rack and Buffet Cabinet is made of heat and water-resistant premium MDF and particle board, so you won't need to worry about the kitchen's heat or humidity causing damage. The stylish piece is available in White Wash, Grey Wash, or Vintage Oak. It's sturdy, simple to put together, and mom will absolutely love it.
Set of 2 Kitchen Mat & Rug
Of course, we know that not every mother enjoys working in the kitchen. However, if the mom you're shopping for does like to cook, another lovely gift to consider is our Set of 2 Kitchen Mat & Rug combo. Not only do the mats improve the overall look of the kitchen, but they'll also protect its pristine floor from spills and crumbs while she or anyone else is cooking or washing dishes. 
The mat and rug come in a classic striped design and are available in either a mint green or blue color pattern. Both options feature soft, gentle hues that will fit in nicely with just about any decor or color scheme. The two pieces are 0.6" thick and made of soft, high-density microfiber, which is extra absorbent and dries quickly. Mom also won't need to worry about slipping, as the mat and rug are each backed with non-skid rubber material that will keep a tight grip on the kitchen floor. Plus, both items are completely machine washable. So, if any food stains should appear on the mat or rug while preparing dinner, it will be a piece of cake to clean them.
If you're hoping to find a nice Mother's Day gift that won't break the bank, the Set of 2 Kitchen Mat & Rug would be a wonderful choice.
Kitchen Baker Rack Organizer Rack
Another fantastic Mother's Day gift for any mother who likes to cook is our sleek
The unobtrusive Kitchen Bakers Storage Rack—which comes in Light Oak, Rustic Brown, or Black—features three bottom shelves, one top shelf, and a wine storage rack. There are also S-shaped hooks, where mom can hang the pots, pans, utensils, oven mitts, and more. The bakers rack boasts a simple, practical design with a minimalist look that will allow it to complement any kitchen or dining room. The kitchen rack is constructed from P2 board, which is sturdy, durable, and waterproof. 
If making tasty food is one of mom's hobbies, having this Kitchen Organizer Rack will revolutionize the way she cooks.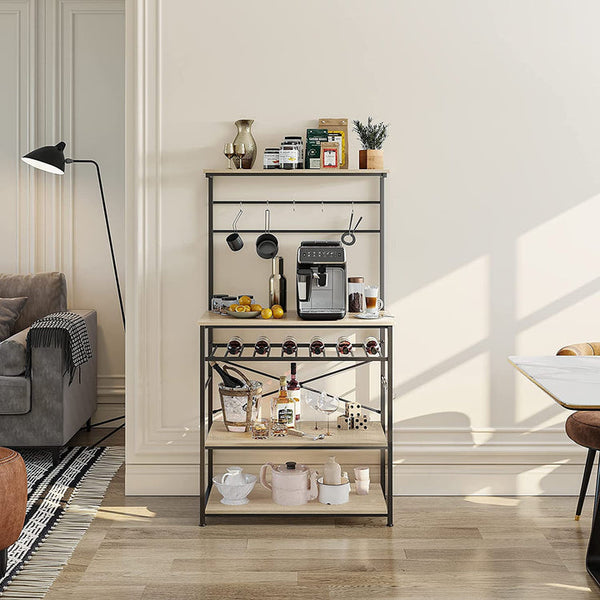 Modern Minimalist Coffee Mugs
Many people can't truly start their day until they've had their morning coffee. If the mother in your life is one of those people, then our Modern Minimalist Coffee Mugs would be a great, thoughtful Mother's Day gift for her. The gorgeous white mugs feature a rounded design with beautiful teal leaves painted around them.  
Your mother, grandmother, or wife can happily sip her coffee every morning while reading, watching her favorite shows, or simply sitting back and relaxing. After all, doesn't mom deserve a little relaxation time now and then?
These ceramic coffee mugs are cute, elegant, and can hold up to 12 ounces of liquid. If you're on a budget and the mother you're shopping for loves coffee, then you need not look any further for the perfect gift.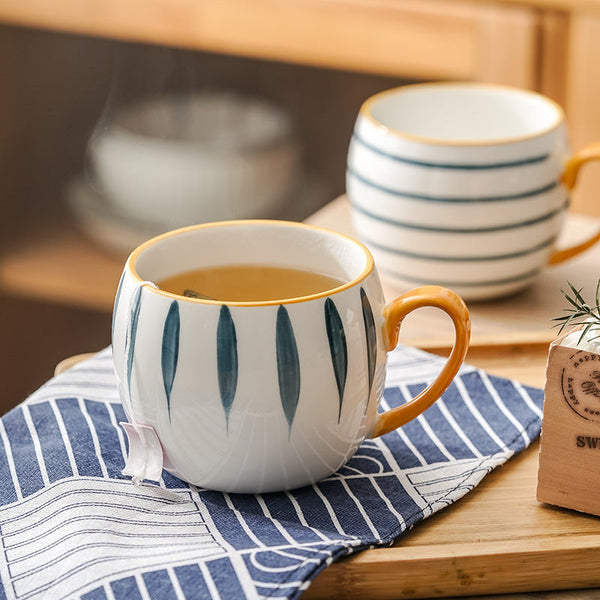 It's the Thought That Counts! 
When it comes to choosing a Mother's Day gift, it truly is the thought that really counts. As long as you make a genuine effort to find something that you think mom will like, there's no question that she'll appreciate it. It isn't so much about the amount of money you spend; it's about using the gift as an opportunity to demonstrate your love and appreciation for the mother in your life.
---