5 Genius Ways to DIY a Coffee Bar at Home
If you're very passionate about coffee, then the idea of preparing your own coffee bar at home is very creative, and you do have all kinds of options to focus on. With that being said, there are always challenges when you try to go the DIY route. However, there are also plenty of products to bring your vision to life. With that in mind, here is a quick list of some items that we think are ideal to create a great coffee bar for your home.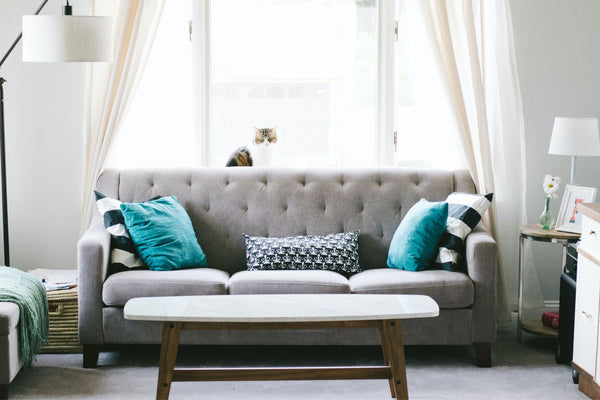 1. Buffet Cabinet for Entryway Kitchen
What you will like about this vintage bar cabinet is that it's versatile, easy to use, and also features plenty of storage space. You can easily store your drinks here, even a coffee machine and everything you need. It's always a good idea to buy a buffet cabinet for an entryway kitchen like this since you have a set of adjustable shelves in 2 tiers. You also have a tabletop can place a photo frame or your coffee machine.
The main appeal of this coffee bar cabinet is that it seamlessly combines the MDF board with high-quality steel. That makes it very durable, and you can easily use the product for a variety of different things. It fits the living room, but it can also be used in an office. This versatility is what really manages to set it apart, and the results you can get are nothing short of staggering.
On top of that, they used anti-tip kits to ensure that it has the utmost stability. Simple features like these make a difference and bring this amazing cabinet to the next level. Overall, if you want a DIY coffee bar that's affordable, this product is a great starting point.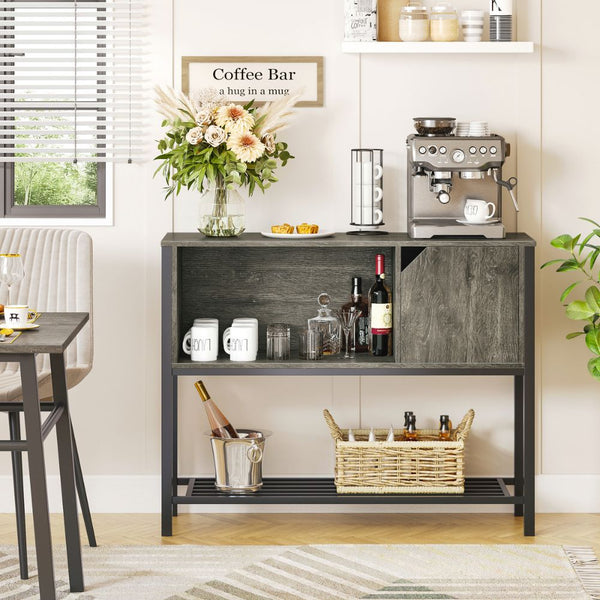 2. Kitchen Island with Storage
What's interesting about this product is that it delivers a good kitchen island suitable even for tiny spaces. A lot of people want a simple, small kitchen island that can be moved without a problem. It's suitable for pretty much any kitchen since it has a rather neutral style and color. When it comes to the structure itself, the product has multiple side cube compartments, and you can store anything you want. We particularly like the fact that you can even store your coffee machine on it.
If you want to go the DIY route and create a coffee bar for yourself, you can have the coffee machine at the top and any accessories at the bottom. Then any of the other coffee-related items like your coffee beans can be stored at the bottom. The wooden doors and closed cabinets at the bottom are a nice touch, and you can use those for anything you need. 
3. Console Table
Sometimes you just need a small coffee bar cabinet, in which case a narrow console table for the living room might do the trick. This one is great if you just want to store the coffee machine and a couple of accessories. You do have some extra hanging space on the side for a bag or anything similar, which does add to the experience. The fact that you get 2 open shelves to use the way you want is great, and it certainly adds to the experience and process. People like this one because it has a black metal frame that fits any environment, and it's environmentally friendly too, which is always a major plus.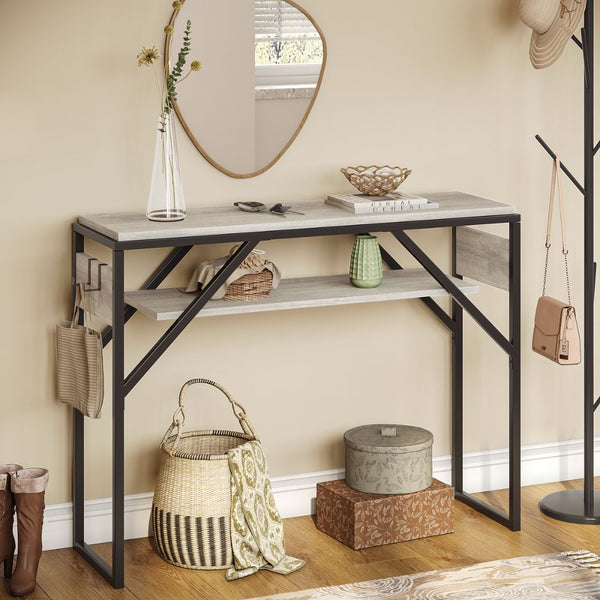 4. Coffee Station Buffet Cabinet with Sliding Door
In case you want a more rustic look for your DIY coffee bar, this corner cabinet coffee bar is a very good pick. What makes it so interesting is the fact that it has lots of space at the top for your coffee machine and cups or any accessories. You then have two flexible shelves and at the bottom, you don't have any separators. This is great because it makes the process easier and better.
You will be very impressed with the process and quality here, especially when you see the P2-grade particleboard. It has great temperature resistance, it doesn't deform at all, and it even has scratch resistance. Despite the fact the corner cabinet coffee bar is a bit larger than other options listed here, this one is actually very easy to install, and that does make it very useful.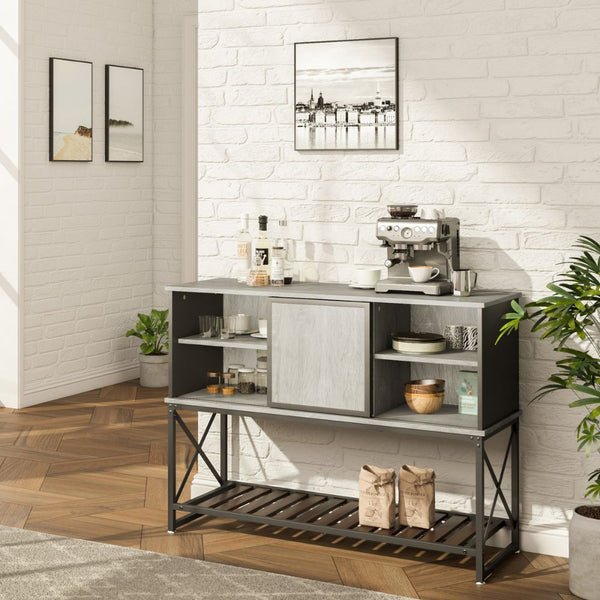 It's always a good idea to ensure that your bar cabinet furniture has enough storage space for all the items that you may need. What's really cool about this particular one is that you get a stemware rack where you can keep your wine glasses with ease. On top of that, you also have a sliding mesh door that allows you to protect any of your glassware or accessories for your coffee machine.
There's also plenty of coffee machine space at the top, and you also have some storage space at the bottom. They use particleboard for this coffee bar, but what's interesting is they added an additional metal leg under the cabinet. This brings in a lot more stability and it eliminates any potential issues that might arise. Simple things like this make a huge difference, and it's exactly why you have to test it out and give it a try.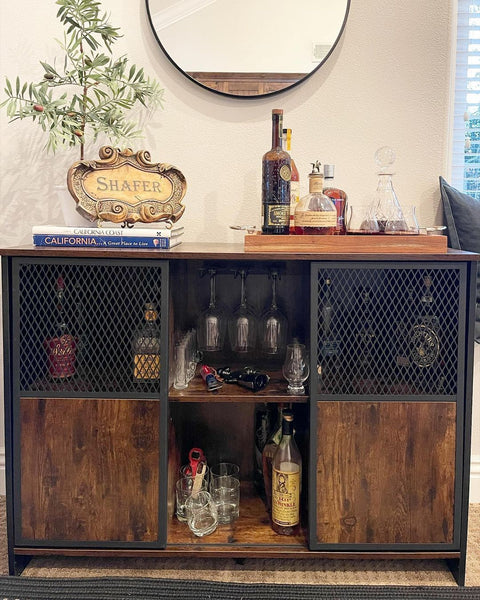 Conclusion
There are lots of amazing ways to create a DIY coffee bar at home. It all comes down to finding the right vintage bar cabinet that suits your needs. You always want to take your time and figure out what you want to store in the coffee bar and if it's organized the way you want. The items listed above are great because they are versatile and adaptable to your needs, and you also have plenty of storage space. It's great quality and attention to detail, but also versatility and ease of use that makes these DIY coffee bars so incredible. Give them a shot for yourself and you will be very happy with the results!
---