Maximize Your Kitchen Space: Organization Guide For Smaller Apartments
If you live in a smaller apartment, maximizing your kitchen space is essential. You need to find comfortable, affordable, and practical furniture. Kitchen furniture that can be easily assembled and cleaned is perfect for small apartments. 
This guide will discuss some of the best ways to organize your kitchen using specially designed furniture from Bestier.With a little bit of effort, you can make your kitchen feel like a true oasis in the middle of chaos.
Why Is It Important To Organize Your Kitchen?
You may not realize it, but most families spend a lot of time in the kitchen; it's where many memories can happen. Families can gather together, cook and eat, do homework, and pay bills. Unfortunately, because the kitchen is usually a central location in most homes, it can get cluttered quickly.
Excess clutter could force your family out of the kitchen; the time spent in the kitchen with family is priceless. So, it should go without saying, but this should motivate you to keep your kitchen clean and organized. There are many benefits to organizing your kitchen.
A well-organized kitchen can:
Help you save time and money.
It can also reduce stress.
Make cooking more enjoyable.
Organizing your kitchen will also help you find what you need when you need it.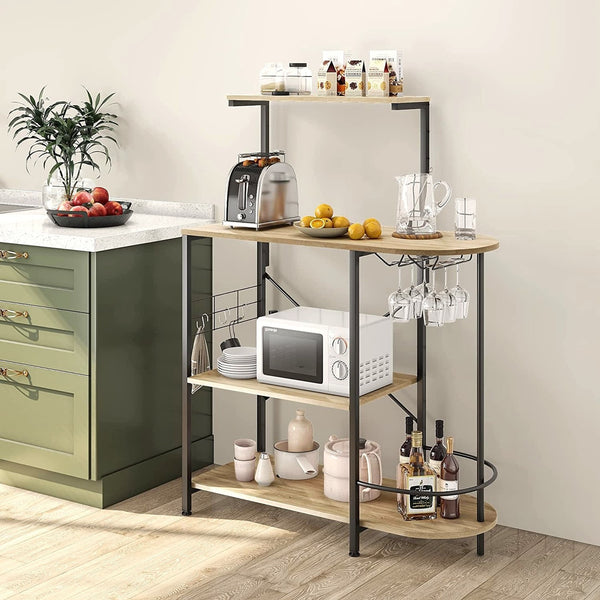 How To Maximize Your Space With Kitchen Furniture
One way to maximize your kitchen space is to use kitchen furniture specially designed for small apartments. This type of furniture is usually easy to assemble and stored in a small area.
One of the best ways to maximize your kitchen space is to use furniture that offers storage. Many furniture items can double as storage units. For example, you can use a hutch or buffet cabinet to store dishes and glasses. If you don't have counter space, you can also use an armoire to store pots and pans. Many different kitchen furniture options offer storage, so you should find something suitable for your needs.
Another great way to maximize your kitchen space is by using furniture easily assembled, disassembled, and cleaned. When you live in a small apartment, you need every bit of extra space that's available. You don't want to have to spend hours putting together complicated furniture only to have it take up valuable space when it's not in use. Look for furniture that you can put it away when you're not using it. A fold-away table is ideal for this.  
To maximize your kitchen space, use kitchen furniture that has multiple purposes. For example, you can use an island as a prep station, dining table, and workspace. If you don't have room for a full-sized table, consider using pub or bistro sets. These sets are smaller, but they're still perfect for enjoying a meal. 
What Are Some Tips For Organizing Your Kitchen Space?
Now that you know how to maximize your kitchen space, it's time to start organizing it. Here are a few tips to help you get started:
Start by decluttering your countertops. Next, get rid of any appliances or gadgets that you don't use regularly.
Invest in some storage containers. The proper storage containers will help you keep your counters and cabinets organized.
Make use of vertical space. For example, install shelves or hooks on the walls to store pots, pans, and other kitchen essentials.
Label your cabinets and drawers. Labeling will help you find what you need when you need it.
Once you've gotten your kitchen organized, be sure to keep it that way by regularly cleaning and decluttering it. Then, with a bit of effort, you can turn your small kitchen into a comfortable and stylish space that you'll enjoy.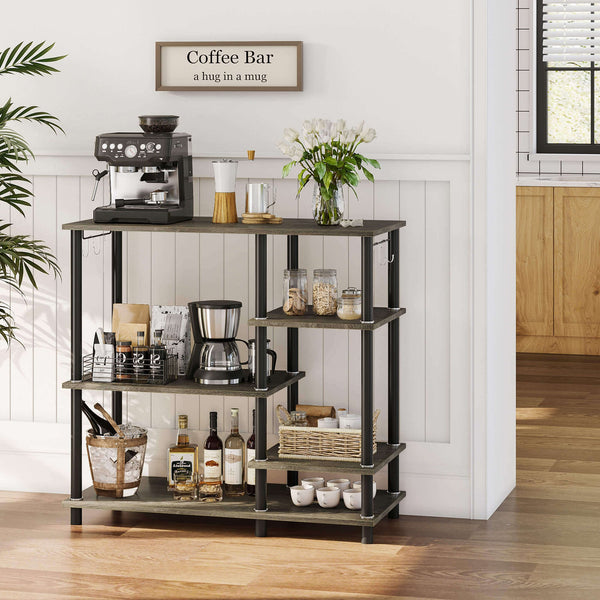 What Do You Do With All This Kitchen Knowledge?
Now that we've covered kitchen organization's what, why, and where, it's time to apply the knowledge. Decluttering your kitchen is paramount because it can help you focus on essential things in life. However, to successfully declutter your kitchen, you'll want to invest in something that keeps your organizational system in place.
For instance, consider using storage containers, shelves, or other furniture with multiple uses. The Microwave Oven Stand with Storage Shelf fits any consumer's need for versatility, style, and function. The piece comes in a trendy vintage dark gray and is made of high-quality particleboard with a black metal frame.
Features
It can accommodate your microwave oven, coffee maker, or other small kitchen appliances.
Waterproof and easy to clean.
Quick Assembly with simple instructions.
It has five customizable shelves that are sturdy and multi-purpose.
Affordable for anyone on a budget.
With a 100% satisfaction guarantee, this furniture is ideal for smaller apartments because of its efficiency. If you don't have the counter space for small appliances, then this piece from Bestier is an excellent addition to your room.
This next piece will likely serve you well if you entertain guests often. As we mentioned, it's imperative to find kitchen furniture specially designed for small spaces. That's why the Bestier Wine Glasses Storage and Buffet Cabinet is the best choice for organizing or creating a small relaxing den or living room. This furniture comes in several rich colors: White Wash, Rustic Brown, and Grey Wash.
Features
It fits in tight spaces where space is a luxury.
The cabinet with 3 shelves, metal wine rack and glass holder keeps everything organized and within reach.
The sliding mesh door provides an aesthetic appeal while keeping your kitchen tools safe and sound.
The cabinet is functional and made from high-quality materials that give it durability and longevity.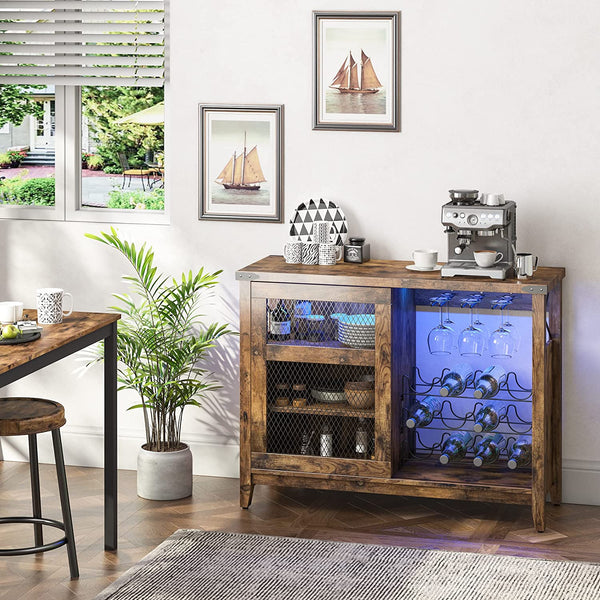 You can purchase minor upgrades like the Smart LED Ambient Light device if you're interested, which can help illuminate the cabinet, even in low-light rooms.
Conclusion
People don't widely know it, but kitchen furniture is an investment. So not only will you have a more functional and organized kitchen, but you'll also have a beautiful space to welcome guests. With the right furniture and a little bit of effort, you can maximize your kitchen space and create the perfect cooking environment for you and your family. 
If you find it challenging to navigate your kitchen, you will need some quality furniture. Consider using the bestier products to organize and create a kitchen area that is pleasing to the eye. Remember, decluttering is key, and by following these simple tips, you can make the most of your space and create a functional and stylish kitchen that you and your family will love.
---