How to Choose the Right TV Stand for Your Unique Space
Whether you're wanting to update an existing room or you're decorating a new space for the first time, choosing the right television stand can make or break a room. Today, we will discuss how to choose the right TV stand for your unique space, and we'll explore a few of the options we have available. At Bestier, we have an extensive inventory of modern and midcentury modern TV stands, that are sure to beautifully transform your special TV room.
A living room is, after all, the heart of a home. We spend most of our free hours gathered on the couch or sitting in front of our entertainment center. So why shouldn't we put extra thought into our personal comfort and the kind of entertainment system we ideally need. Let's explore our options, shall we?.
The Pros and Cons of a Corner Television Stand
Depending upon the layout of your living room, family room, or den, having a corner TV stand may be the best option for you. In rooms with a lot of windows or little wall space, a corner TV stand may free up much-needed space. Also, for those with an L-shaped sofa, a corner television stand ensures that everyone can watch TV comfortably --without the neck strain.
However, the main challenge with a corner TV stand is it can usually only accommodate smaller televisions. The larger 65-inch plus TVs are often too large and take up too much space when located in the corner of a room. Therefore, if you are opting for a larger television, you'll definitely want to go with a sturdy TV stand centered along an available wall.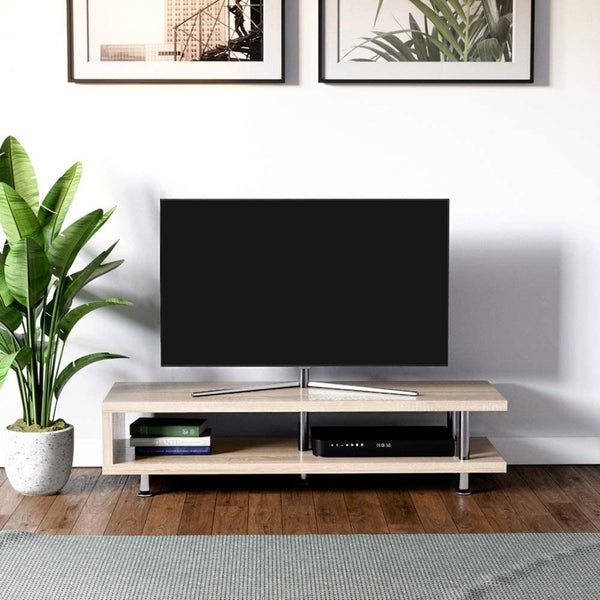 The Aesthetic Appeal of Modern Television Stands
Modern TV stands offer a lot of open spaces, clean lines, and a no-fuss elegant look. They also allow your electronics to breathe, which prevents overheating. The open design of modern TV stands also allows your remote-control signal to reach your electronic devices with ease, and without having to open bulky cabinet doors.  
Midcentury modern TV stands have their own noteworthy appeal as well. Midcentury modern combines the minimalist simplicity of modern furniture with bright and bold color. This combination creates emotional interest and a cheerful atmosphere.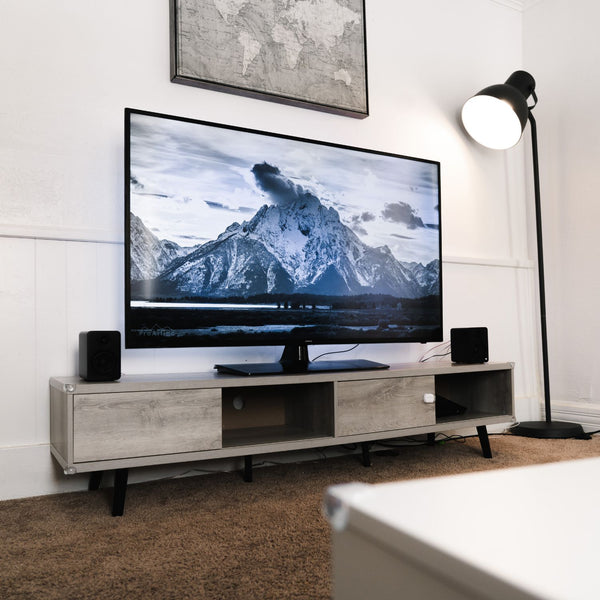 TV Stands That Can Accommodate a 65-Inch Plus Television
If you're the kind of person that wants to be in the middle of the action and you've opted for a larger television, then you'll want to buy a TV stand that matches the bold size of your television. Bigger means heavier. Therefore, you'll want a TV stand that can withstand the weight of a larger television.
Failing to choose a strong enough TV stand can mean bowing or structural instability. This, of course, can cause damage to your television or worse, personal injury. Therefore, be sure to take size and strength into consideration when purchasing an entertainment console. Choose stands with solid wood, steel, proper width, sturdy legs, and reinforced joints for optimal durability.
Here, we have a wonderful furniture option that can easily accommodate a 65-inch plus TV.  Additionally, this piece is also a great TV stand for 65-inch TVs.
Lighting Considerations
TV stand lighting can really alter the mood of a room and positively impact your movie-going experience. Most of us don't want to leave an overhead ceiling light turned on when we're watching a movie, as it ruins the immersive experience. Similarly, a table lamp does little to improve the harsh and overpowering light of a 60-watt bulb.
The best solution for lighting whilst watching a movie remains to be TV stand LED lighting. Additionally, a TV stand with an LED light system can showcase your favorite movies and games, even when you're not watching TV.
A TV stand with LED lights can also be customized. You can choose the color that best suits your mood or ambiance you want to create. Here is a model that can greatly improve your nighttime movie or gaming experience.
While many of us enjoy going out to the movies for a nice show, most of us are enjoying our home entertainment centers more. This is because the long concession lines, sub-par food, and uncomfortable seating are just way overrated. Nowadays, having a luxurious home theater is where it's at. Therefore, having the right lighting can make movie night at home all the more memorable.
The Bottom Line
Choosing the right entertainment center comes down to personal preference, style, and practical need. If you are the kind of person who collects DVDs, CDs, video games, and other entertainment gear, then you will want a TV stand with lots of storage. If you're a movie buff, choose a TV stand that will showcase your favorite movies.
Whatever it is that you're looking for, we've got the best TV stands on the market. Start your search here. 
Happy watching!
---