When it comes to decorating and refreshing your home and room, the floor is frequently the last item on your mind. So, how do you make your house appear a new look? This is where rugs & carpets come into play. Modern Rugs may completely transform the look and feel of a space.
Do you know how to select an appropriate carpet for your home?
This article will help you make the greatest option when it comes to selecting modern boutique rugs, whether you're searching for living room area rugs, bedroom area rugs, small area rugs, or carpets.
First, decide what size area rug you need.
One of the most important factors to consider when shopping for an area rug is size. Purchasing the improper carpet size is quite detrimental, especially when you've finished decorating all the places in your home.
If you want something larger area rug, you must measure the entire room to ensure that will fit appropriately. For smaller carpets, like 3x5 area rugs, you should measure the area you're looking to cover and make sure that the rug you choose is.
This classic 3' x 5' rectangle geometric area rug, with a timeless pattern of interlocking shapes and colors that evoke a sense of harmony and balance. From the bold lines and sharp angles to the subtle and muted tones, this rug is sure to add a touch of class and sophistication to any room.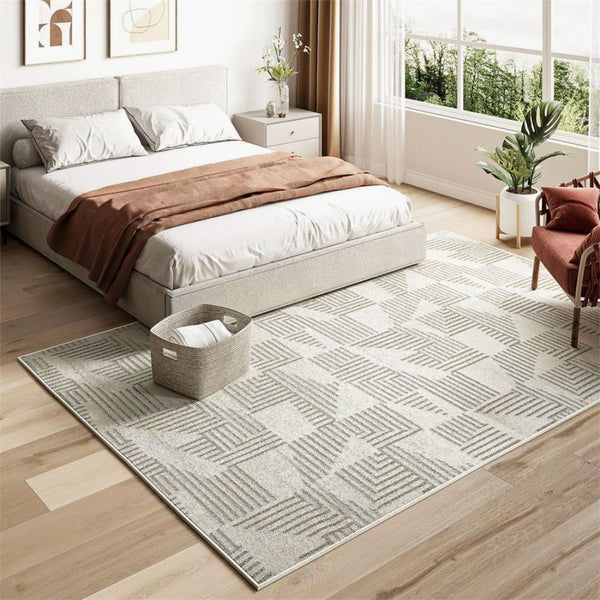 Second, decide what rugs style you're looking for.
Do you prefer traditional rugs with intricate designs and weaving, or contemporary rugs with more modern and minimalist designs? Consider your home's current design and think about how you want the rug to fit in.
This coastal area rug features a stunning blue and white lines combination that will bring a touch of ocean breeze into your home. Its unique and vibrant color design will bring a beautiful and calming element to your space.
Third, think about what rugs material you want.
Polypropylene is a popular material for carpets since it is sturdy and resilient, as well as stain and fade resistant. Moreover, polypropylene is simple to clean and maintain, making it a flexible solution for any house.
Are you prepared to invest in a new modern area rug for your home?
With a little care and study, you can discover the right rug to tie your area together and endure for years. Bestier is a lifestyle brand with modern furniture, hope it can help you to choose the rugs you want.
---